Home > Business > Early Childhood Management > Program Description
Early Childhood Care and Management - Program Description
The Bachelor of Business Administration in Early Childhood Care and Management combines theory and practice for students seeking careers in the childcare field; working specifically with children from infancy – 5 years of age. The degree program prepares students for work in childcare centers; private preschool, nursery, and university early childhood lab schools, family childcare settings, Head Start and government-sponsored programs, and various early childhood based businesses and organizations within the early childhood and childcare industry.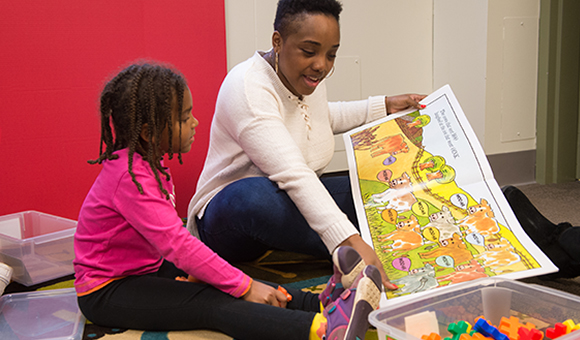 The program will assist students with defining their role in the field as professionals. The degree will offer course content related to child development, individual and program assessment, family relationships, curriculum planning, primary teaching methods, quality caregiving, program administration, and leadership. It will provide a combination of educational foundation, theory, professional reflective practice, and direct application of these skills. Early Childhood upper-level program electives will offer subject matter relevant to the professional development and growth of the early childhood educator and early childhood director. Additional courses will provide a strong business-focused foundation. Additional courses will include content related to organizational leadership, human resources and fiscal management, small business management and ownership, and leadership.
Career Opportunities:
The employment opportunities cover a broad range, including major employers and also entrepreneurships. Graduates are working in:
Child Care Center Owner
Child Care Center Director [private, corporate, college lab-based]
Child Care Center Assistant Director
Child Care Center Lead Teacher
Self Employed Family Child Care Center Provider
Early Childhood Resource and Referral Agencies
Early Childhood Trainer or Consultant
Head Start Program Administration
Children's Museum Educator / Trainer
Note: The SUNY Canton Bachelor of Business Administration in Early Childhood Care and Management degree is not a NYS Registered Program for NYS Teacher Certification.
NYS Teacher Certification requires completion of NYS Board of Education requirements via a master's program or "alternative" pathway. For further information regarding certification, please view the NYS Department of Education Teaching Initiatives website.
Our curriculum and course of study focuses on working with families and children from infancy to age 5, preparing graduates for teaching, leadership, and administrative positions in state-licensed childcare programs, the childcare industry, and the early childhood field exclusively. Courses incorporate NYS Office for Children and Family Services professional development trainings as required for employees in state licensed childcare centers.
Admission Requirements:
---
PROGRAM REQUIREMENTS
Semester I Credits
Semester II Credits
Semester III Credits
Semester IV Credits
Semester V Credits
Semester VI Credits
Semester VII Credits
Semester VIII Credits
* FYEP 101 may be waived for Transfer students dependent on transfer credits [24 cr. min.]
** Fulfills writing intensive requirement.
U/L = Upper Level Courses (300/400)
GER = General Education Requirement
Must meet 7 of 10 General Education [GER] course requirements.
REQUIRED GER Categories: 1-2, 3, 4, 5 and three additional required GER Categories Options: 6, 7, 8 ,9, 10, 11
College-Level Math [GER 4] required, no credit for ENGL 097 or MATH 100
U/L Program Electives
ECHD 302: Multi-Cultural EC Curriculum
ECHD 303: Physical Activity: Indoors & Out
ECHD 304: STEM in the Early Years
ECHD 402: Early Literacy & Language Dev.
ECHD 403: Family Child Care Development & Management
ECHD 405: Mentor: Teacher as Trainer
Review the Index of Course Descriptions